Victorian doll's house sells for £42,000 at auction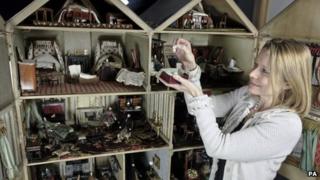 An antique doll's house has sold for more than £42,000 at auction.
Experts had predicted the house, built in 1850, would reach up to £15,000 when it went under the hammer in Cheltenham, Gloucestershire.
It was made by a husband and wife known only as Mr and Mrs Newton, of Liverpool, for their daughter Emma, then aged six.
Mr Newton designed most of the furniture and the house while his wife made the bedclothes and furnishings.
'Miniature chandelier'
The Victorian house has an entrance hall with a kitchen and laundry room on the ground floor, complete with tiny crockery and a pet dog.
On the first floor, figures can be seen relaxing in two elaborate reception rooms furnished with gold-framed artwork and a miniature chandelier.
Bedrooms on the second floor have matching bedclothes, while two cots have pristine white blankets tucked around them.
The attic features two extra bedrooms, with canopies over the beds.
The house was moved to Askham Richard in Yorkshire when Emma Newton married the Reverend Usher Miles and, after being used by their five daughters, remained in her possession until her death in 1931.
It was then passed down through her family until the early 1970s when it went to the previous owner, who wishes to remain anonymous.
The identity of the current owner has not been revealed.
Speaking after Friday's sale, auctioneers Simon Chorley, said the new owner had made provision to prevent the doll's house and original contents from being split up in future years.