Westbury-on-Severn GP surgery to reopen after 11 months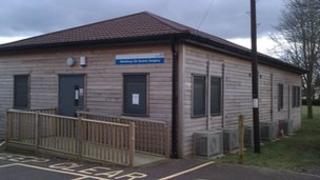 A new doctor's surgery in the Forest of Dean which was shut 11 months ago because of technology issues will open again within a fortnight.
The £300,000 building in Westbury-on-Severn closed four hours after its opening on 14 January due to errors in the computer and phone system.
NHS Gloucestershire said resolving the issues was "essential" to protect patients at the new surgery.
Villagers have been using the Newnham surgery three miles (4.8km) away.
Westbury resident Deana Bryant-Duncan said she was "absolutely amazed" it had taken so long to reopen.
"It has been damp and it must be full of rats, out there neglected," she said.
"It could have been used for all sorts of things instead of just staying there empty. Now let's hope they are going to use it this time."
Another villager, Geoff Sterry, said he would "believe it when it's open".
The surgery is a branch of the Newnham Practice, with errors centring around the computer connection between the two sites.
An NHS spokesperson said: "This has been mainly due to a number of technical issues we have had to address in order to ensure patients can be cared for in a safe environment and patient confidentially is not compromised.
"This has included problems in arranging communications links for telephone and data and issues with the phone system.
"There have also been issues with the IT system which meant, for example, that GPs could not have requested blood tests or x-rays safely on the system."
The surgery is due to reopen on 16 December.