Eddie 'The Eagle' Edwards to ski jump again after 18 years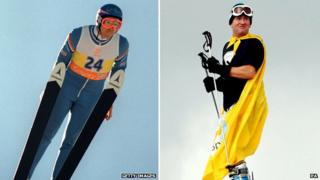 Britain's most famous ski jumper is to fly again, almost 18 years since his last effort, with hopes of jumping "better than ever before".
Eddie "The Eagle" Edwards, who lives in the Stroud Valleys, Gloucestershire, has been invited to take part in a New Year's Day ski jump event in Bavaria.
Rather than competing, the ex-Olympian will act as a "fore-jumper" to set the time and speed for the other entrants.
"I'm excited because I'm fitter now than I was 20 years ago," he said.
Eye surgery
Real name Michael Edwards, the 49-year-old ski jumper became world famous upon finishing a distant last at the Calgary Winter Olympics in 1988.
Since those days he has studied for a law degree, trained and worked as a plasterer and worked as a motivational speaker.
Now, 25 years on from the Olympics that made him a household name, Edwards is heading back to the slopes for the Garmisch-Partenkirchen new year ski jump in southern Germany.
"It is giving me the opportunity to go off a 125m (410ft) ski jump for the first time in almost 18 years," Edwards told BBC Radio Gloucestershire.
"Because I have had eye surgery I can see where I'm going now, so that might cause problems because I might not want to go down the jump."
Diving joy
Next week he is travelling to Seefeld in Austria to train for the event, spending time building confidence on several jumps ranging from 60m to 125m (197ft to 410ft).
He said: "My family trust the fact that I wouldn't be reckless and endanger myself - they trust me to know what I'm doing and to come out of it unscathed and, hopefully, in one piece."
In February, 5.6 million television viewers watched Edwards win the ITV celebrity diving show Splash!
A second series of the Saturday show will be aired next year.