Gloucestershire Police 2% budget increase proposed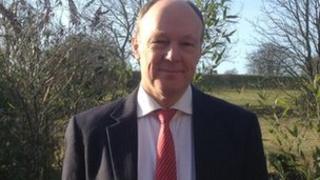 The portion of council tax people in Gloucestershire pay for the police budget could be increased by 2%.
The county's police and crime commissioner, Martin Surl, said he is considering an increase in the police precept for next year.
It would be used to pay for resources for officers, police community support officers (PCSOs) and tackling online crime, he said.
The cost to council tax payers would be an extra £4.05 a year, Mr Surl added.
Gloucestershire Police's budget is funded by a government grant and through the police precept - the policing part of council tax bills, which is currently £203.68 each year for a band D property.
Online bullying
Mr Surl said part of the budget would be spent on tackling cyber bullying and online fraud.
"I think our police should be equipped to offer more protection to stop people being ripped-off by conmen," he said.
"Equally as important, I would like to address the issue of young people being bullied through social networks and the misery that causes.
"If we are to increase our ability to tackle it, the constabulary will likely need new equipment, specialist staff and training and that will cost money we don't have at the moment."
Mr Surl said the increased budget would mean no reduction in the number of police community support officers (PCSOs) and front-line officers and there would be no further increase in the budget for two years.
Gloucestershire Constabulary's budget for 2013-14 was £102.7m. The budget for 2014-15 is due to be agreed early next year.
A public consultation on the proposal is due to end on 18 December.