Gloucestershire's School Dinner Company ceases trading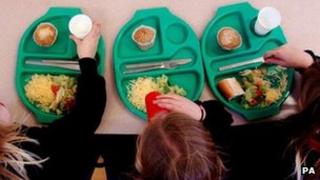 A catering firm which prepared meals for 21 schools in Gloucestershire has ceased trading.
The School Dinner Company, based in Winchcombe, had made lunches for around 1,500 pupils and staff in primary and infant schools across the county.
Smart Insolvency Solutions has been appointed to assist with the liquidation process.
The firm warned there may be some job losses but said the majority of workers would be retained by a new company.
'Sad'
A notice posted on the School Dinner Company website said creditors of the company would soon receive formal notification.
Alison Crooks, headteacher at one of the affected schools, Innsworth Infant School near Gloucester, said she was shocked by the news.
"The food was good, so I'm sad that it has come to an end," she said.
"I got a call on the last day of the Christmas holiday to say they'd gone into liquidation, so we emailed and text our parents to say to bring packed lunches because there would be no dinners."
Free sandwich lunches are being provided at the school while the search for a new caterer is under way.
Gloucestershire County Council said the School Dinner Company provided an independent service but it would offer help and advice to the 17 schools affected.
Liberal Democrat leader and Deputy PM Nick Clegg announced last year that all pupils at England's infant schools would get free school lunches from September.