Battle of Tewkesbury site campaigners given more time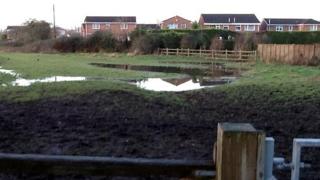 Campaigners wanting to protect the site of a 15th Century Wars of the Roses battlefield have been given more time to buy it.
The land where the Battle of Tewkesbury was fought was due to be sold in an auction, with a deadline of 3 February.
Tewkesbury Borough Council has listed the site as an asset of community value, meaning it cannot be sold for six months.
The land has been put up for sale by Tewkesbury School's trust fund.
Gastons Fields was at the centre of the Wars of the Roses battle in 1471 when Yorkist King Edward IV's forces triumphed over the Lancastrians.
Tewkesbury Battlefield Society chairman Steve Goodchild said: "This is excellent news, because it takes off the immediate pressure and gives us time to obtain the funding and develop our ideas."
The land was put up for sale earlier this year, with a guide price of £120,000 to £150,000.
Previously, campaigners said they feared the land could be sold to a developer and be built on eventually, and they feared they would not have enough time to secure funding to be able to put in a bid.
A Tewkesbury Borough Council spokeswoman said: "Under the community right to bid process, community groups can nominate local land or buildings to become assets of community value.
"This means they cannot be sold without the community group first being informed and given the opportunity to prepare a bid to buy the site on the open market if the owner decides to sell.
"We received a nomination from the Tewkesbury Battlefield Society for The Gastons in Tewkesbury and following assessment it has now been recognised and listed as an asset of community value."
A society spokeswoman said it would now start preparing a bid, and go ahead with fundraising.
In 1999 plans to build more than 50 houses on part of the site were refused following a public inquiry.