Soldiers break egg and soldier dipping world record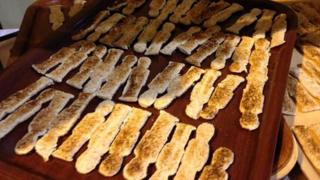 A group of soldiers have set a new record for the most people dipping egg "soldiers" simultaneously.
The record was set at Imjin Barrack in Gloucestershire, when 178 soldiers from HQ Allied Rapid Reaction Corps dunked their toast counterparts into soft-boiled eggs.
The previous record was set in 2012 by 100 Coldstream Guards and Grenadiers.
The new dipping landmark was achieved more than a week ago but has now been ratified by Guinness World Records.
'Dip, eat, dip'
The event was held in aid of Winston's Wish charity for bereaved children, and spokeswoman Chloe Moorhead said the Cheltenham-based charity was "delighted" by the news.
In preparation for the egg exploits, 300 eggs were soft-boiled for exactly two minutes and 15 seconds while 50 loaves of bread, cut into 300 slices, were toasted by a catering team.
Then, with the troops lined up at tables in the camp's gymnasium, the order was given by a commanding officer to "dip, eat, dip".
Ms Moorhead said Winston's Wish had received its official certificate from Guinness World Records this week.
"We were so pleased with the support we received from Imjin and all the soldiers that turned up," said Ms Moorhead.
"And it's brilliant that we've managed to break the record."