Gloucestershire flood levels 'to stay high'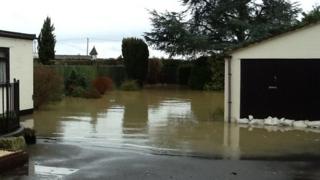 Water levels in flood-hit parts of Gloucestershire are expected to rise by a further 30cm (12in), the Environment Agency has warned.
More than 50 properties in the county have been flooded, and several roads remain closed.
Fourteen flood warnings remain in place, on the rivers Severn from Tewkesbury to Gloucester, and on the Wye at Lydbrook.
The agency has said water levels will stay high for "quite some time".
Chris Bainger from the Environment Agency said: "Gloucestershire has another half a metre to go to reach the levels of flooding seen in 2007 but we are going to see a peak of a further 30cm.
"The Gloucestershire area is where all these peaks that we've been seeing from upstream are now colliding into each other and merging.
'Hit to the core'
"That means levels are going to stay very, very elevated for quite some time, and that's from Tewkesbury right through to Gloucester.
Mr Bainger said fears that the same amount of flooding that was seen in the county in July 2007, when the county was hit badly, were unfounded.
"This is a very different flood to 2007.
"2007 was very flashy, we had roads flooded instantly, and it really hit this area to the core,.
"We're not quite like that, but still have a lot of water coming down, and the forecast today is not very good at all, and it's not very good going through to the weekend.
"I would call the ground supersaturated now, it's got so much water in there."
Further rain has been forecast for the area over the next few days.