'Horse' arrives at Soldiers of Gloucestershire museum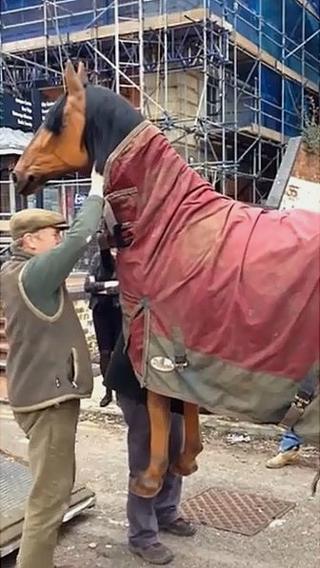 A life-sized mannequin horse has been delivered to a military museum in Gloucester, from a maker in Derby.
The fibreglass horse arrived at The Soldiers of Gloucestershire museum on Friday, in a horse box "complete with horse blanket and straw".
Trustee Ralph Stevenson said: "We were going to hire a van but thought the best way to get it was in a horsebox."
Nicknamed 'Ginger', the horse is due to go on display as part of the Royal Gloucestershire Hussar's exhibition.
'Fear being stopped'
The museum, founded in 1926 and based at Victoria Dock in Gloucester, charts the military and social history of the county's regiments from 1694.
But despite the Royal Gloucestershire Hussars being a cavalry regiment, the museum has not had a 'horse' to display equestrian equipment on until now.
"I sourced the horse from someone in Derby, who makes them for riding schools to help with riding skills," said Mr Stevenson.
"It's full size, 14 hands 2 inches, but extremely light - one person would be able to carry him."
Transporting the horse down the M42 and M5 in a horsebox on Friday, Mr Stevenson said he had not been aware of getting "any looks".
"The straw was already in the horsebox but we did cover the horse with a horse blanket to protect it," he said.
"And we were concerned that we would be stopped by people wanting to warn us that the blanket would overheat the horse."
The museum is currently undergoing refurbishment with a Heritage Lottery Fund grant and is due to reopen in April.