Gloucester police make four child trafficking arrests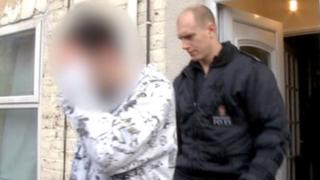 Four people have been arrested in Gloucestershire on suspicion of child trafficking and sex offences.
Two women and two men, aged between 19 and 45, remain in police custody after raids on two properties in Gloucester.
More than nine alleged victims, aged between 14 and 17, have been identified by police in Operation Garner so far.
The arrests are the first in the county under child trafficking laws and the first since the launch of a child sexual exploitation unit last year.
Det Sgt Nigel Hatton, who works in the unit, said: "We have got a number of children identified who have been coerced into [visiting one of the addresses] and there has been allegations of inappropriate sexual activity taking place.
"We've got a number of young people to speak to throughout the day and that action may increase."
The police set up the unit last September at a time when they had already identified more than 70 children in the county who were potentially at risk.
In this case they suspect nine alleged victims - who have been visited by police officers and social care teams - have been trafficked between different houses in the city.