Cheltenham grass verges go under the hammer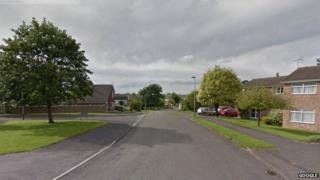 Twelve "irregular shaped" grass verges in Cheltenham are being sold with a guide price of £10,000.
The verges, on the Merestones estate, have a total area of 1.5 acres and are owned by Bilton Land Ltd and managed by the council.
But local residents have said none of the slivers of land appear large enough for development and say the sale is a "mystery".
The lot will be auctioned off by Allsop auctioneers in London on 27 March.
'Dog kennel'
Chair of the Merestones Residents Association, Chris Hyatt, said: "We find it quite a mystery and we've had an emergency meeting to discuss it with all of the residents," she said.
"All the land was adopted by the council, it is all maintained by the council, all of these are public highways, and there seems to be no reason why anything like that should be interfered with."
One resident told BBC Gloucestershire she had received a letter in the post last week alerting her to the sale.
"It just said that they were thinking of selling [the land]. It isn't even for garden growing either, I mean you can't even put a garden on there, it's just ridiculous," she said.
"Of course it concerns us, because we don't really know how they can do it, the little pieces there, you really can't build anything on, unless you want to build a dog kennel."
Existing rights maintained
The lot is described as "12 freehold sites" comprising of "12 irregular shaped sites" and with "possible potential for development".
The sites are to the north of Shurdlington Road, to the south of The Park and to the east of Hatherley Brook.
Cheltenham Borough councillor Rob Garnham said all of the existing rights over the land will be maintained, including utilities.
"Some people understand why someone might want to sell it. If they get £10,000 in the bank, well that's £10,000 richer, but who is going to buy it?" he said.
"The only thing I could possibly think of is that in 10- 15 years time someone might have the time to knock on a few doors and say 'do you want an extra foot or so added to your garden? If so, you can buy it off me'."