Cheltenham rape gaffe councillor will not stand for re-election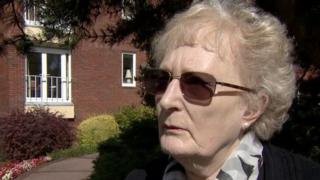 A Conservative councillor who equated the "inevitability" of the building of new houses with rape has announced she will not stand for re-election.
At a Cheltenham Borough Council meeting Barbara Driver said: "When rape is inevitable, lie back and enjoy it".
The former mayor made the comment at a debate on Wednesday over plans to build 30,000 homes in Gloucestershire.
Ms Driver apologised and said she would not now seek nomination as a candidate for the local elections in May.
'Difficult' decision
She said she was sorry for the damage the "thoughtless and inappropriate comment" had caused, and that she believed "the right thing to do at this stage is to step back from public life".
Cheltenham Conservative Party leader Rob Garnham said he understood how "difficult" the decision had been for her.
"She has devoted herself tirelessly to the council, and to the vulnerable and disadvantaged people of this town, and for that she deserves all our thanks and recognition," he added.
A Gloucestershire Rape and Sexual Abuse Centre (GRASAC) spokeswoman criticised Ms Driver's remarks.
"When people in positions of power make throw-away and flippant comments like this it perpetuates the myths around rape," she said.