Forest of Dean Wilderness Centre group 'makes final bid'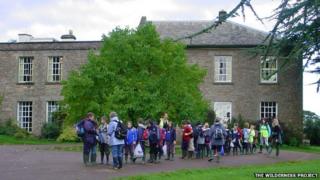 A community group wanting to acquire a Forest of Dean outdoor education centre says it has offered its final bid.
For two years The Wilderness Project's board members have worked on plans to take over the former Wilderness Centre, which closed three years ago.
Gloucestershire County Council has already sold off part of the Mitcheldean site in order to cut costs.
The board has said the council intends to put the centre on the open market on 16 May and this offer will be the last.
In the 28-page 'bid', the group said it had identified some £300,000 of grants and sponsorship to restart a "residential environmental education centre".
They also said the plan demonstrated the community could run a profitable business that would require no future financial assistance from the authority.
'Really disappointing'
However, the authority said the documents submitted show that, in three years, the group had "raised only £1,200 themselves, and a further £16,000 in cash pledges, which would not even begin to meet the site's annual running costs".
Conservative councillor Ray Theodoulou said the council had been consistently clear from the beginning that the site could not be given to the community for free.
"We've done everything we can to help them put in a bid for the site, including direct cash funding and help with legal costs," he said.
"We've also considerably delayed the sale of the building to give them more time and offered them a very substantial community discount off any purchase price.
"It's really disappointing that, despite that, they're still not in a position to put in a bid."