Hollie Gazzard charity walk to remember stabbed hairdresser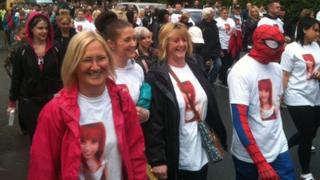 Hundreds of people took part in a charity walk in memory of hairdresser Hollie Gazzard, who was fatally stabbed in a Gloucester salon.
The 20-year-old was attacked while working at Fringe Benefits in the city centre on 18 February.
Her family set up the Hollie Gazzard Foundation to sponsor a young hairdresser in the city each year.
Asher Thomas Maslin, 22, of Gloucester Road, Cheltenham, has been charged with Miss Gazzard's murder.
A trial is likely to take place in October at Gloucester Crown Court.
Hollie's father, Nick Gazzard, said he was "bowled over" by the amount of people who joined the walk.