Battle of Tewkesbury giant horse sculptures erected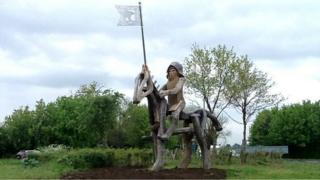 Two giant horse sculptures have been erected to commemorate the Battle of Tewkesbury in 1471.
The 5m (16ft) tall works, featuring a victorious knight on horseback and a defeated horse, have been installed at the Stonehills roundabout on the A38.
Tewkesbury Battlefield Society raised £65,000 to fund them. They took 15 years to plan and two years to make.
Yorkist King Edward IV's forces triumphed over the Lancastrians during the War of the Roses battle.
Sculptor Phil Bews from the Forest of Dean said the work had been made from green oak, from recently-felled Gloucestershire trees.
"Oddly, the most difficult thing was sourcing the logs. The secret is to find the right bends in the tree," he said.
The title of the piece - "Arrivall" - is taken from the 1471 account of the recovery of Henry VI's English throne by Edward IV.
An official dedication of the sculptures is due to take place on Sunday, the anniversary of the battle.