Gloucester girls school given £1.8m for new arts centre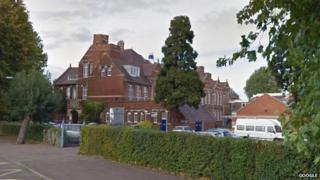 A 150-year-old girls' school in Gloucestershire has been given almost £2m to build new classrooms.
Gloucester's High School for Girls has said it would use the money for an English and Performing Arts Centre.
Head teacher Ewa Sawicka said the £1.8m grant, from the government's Academies Capital Maintenance Fund, would revolutionise facilities at the school.
Building work is expected to begin once A-Level and GCSE exams are over and be completed by next April.
The school's history dates to 1861 but it has been on its current site in Denmark Road since 1909. In 2011 it became an academy and charity.
Mrs Sawicka said a large number of "not-so" temporary classrooms, which had been in place for more than 20 years, could finally be removed and replaced.
She added that efforts would continue to raise £750,000 for a drama studio, which the school wants to build, while the new arts centre is under construction.