Minchinhampton, Selsley and Rodborough commons cows return to graze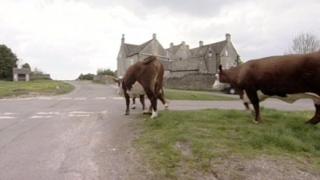 Drivers are being urged to look out for cows on three Gloucestershire commons after 12 of the animals were hit by vehicles last year.
About 500 cattle are expected to be released on Minchinhampton, Selsley and Rodborough commons - in an event known as marking day - from Tuesday.
Posters have been put up at the gates to the commons warning of the risks.
Driver safety manager Gary Handley said when cars and cows collide it is not always the cow that comes off worst.
"For several months now motorists may have made journeys on the roads that criss-cross the commons, seeing only the occasional golfer, horse and other wildlife," said Mr Handley.
"So it's vital that all users of the common are informed that cattle may be encountered, from marking day."
Farmer Bill Powell, whose cattle are released onto the commons every year, said: "It seems odd to some people to see cattle on unfenced properties, but grazing is the best way to keep the commons in good condition for everyone's benefit."