Anti-badger cull campaigners march from Gloucester to London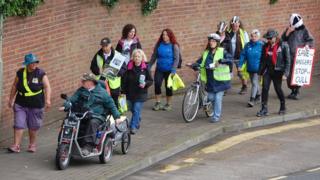 A group of anti-badger cull campaigners have begun a 10-day walk to raise money and awareness for their cause.
The walkers are being led by Devon-based wildlife sculptor Ama Menec along a 112-mile (180km) route from Gloucester to Westminster.
Defra believes a second cull in Somerset and Gloucestershire is needed to help stop the spread of bovine TB.
Walk organiser Julie Buxton said there was still a great deal of determination to stop the "brutal and cruel" culls.
In April the government announced the continuation of pilot culls in west Somerset and west Gloucestershire but said it would not be expanding the cull to other areas this year.
Its original plan was to announce up to 10 new cull areas in south-west England each year.
Many protestors have vowed to continue their efforts to stop the culls and raise money to finance the ongoing campaign.
Ms Menec said: "People out there think the cull is all over but we know it's not. We are a small army but as we move across the country we will grow and grow.
"We will hold workshops, badger ecology talks, hand out my leaflet on '20 ways to combat TB in cattle' and we will continue to shout 'Save the Badger' until the government listens and stops this bloody cull."
The Great Badger Trail will move from Gloucester and through Cheltenham, Northleach, Witney, Oxford, Wallingford, Henley on Thames, Maidenhead, Slough and Hounslow, before finishing at Westminster on 31 May.
According to Natural England's website, the open season for trapping and shooting of free-ranging badgers begins the following day on 1 June.