Cheltenham cremations suspended for repair work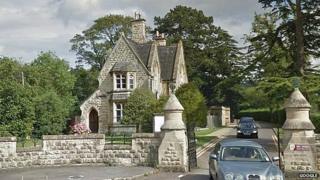 Cheltenham crematorium is to stop cremating bodies for up to two weeks next month.
There have been problems with its two cremators since they were installed in 2012 by a company that has since gone out of business, the council said.
With just one cremator in use for the best part of two years, staff have had to work round the clock to meet demand.
Repair work will take place when there are no cremation bookings, and burials will be unaffected, the council said.
The two cremators cost more than £650,000 to install but have "never run properly", according to the council.
Since 19 May, the larger of the two cremators has been out of action with staff working until close to midnight, and grounds maintenance staff having to be drafted in to meet demand.
'Scale back cremations'
"The cremator was due to be back on-line on 3 June, so we'd taken funeral bookings thinking we'd have two cremators operating," said bereavement services manager Rob Hainsworth.
"But we discovered a problem in one of the flues so we had to switch it back off again."
Now, the council has been advised the "safest way to stabilise both cremators" will be to shut both down completely, to carry out repairs.
"This is a decision that hasn't been taken lightly," said Councillor Chris Coleman.
"We realise, in the short term, that this will inconvenience the people who rely on our services, but we hope that this intense, focused effort will help us stabilise the cremators for the longer term."
Until work begins, cremations will be scaled back from 10 a day to five to "reduce the added pressure" on the one operating cremator.