'Lack of resources' to cull 400 Forest of Dean boar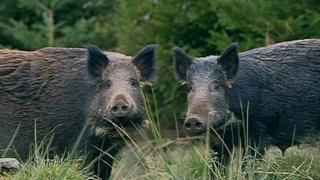 A cull of 400 wild boar is "needed" in the Forest of Dean but the Forestry Commission said it lacks the resources.
The commission, as part of a management plan, agreed to a population of 400 but the latest thermal imaging survey shows there are 819 wild boar in the forest.
Kevin Stannard, from the commission, said: "There needs to be a significant cull but we're not setting a 419 target because we need to increase resources."
But David Slater, from Friends of the Boar, said numbers were "sustainable".
In 2012 the cull was suspended over concerns the numbers were too low and the species could be eradicated.
But last year, despite a cull of 135 wild boar, the population increased by 284 and is now double the 400 target agreed by the commission.
'Recruiting fourth ranger'
"The number of sports pitches and people's gardens invaded and the number of reports of attacks on dogs - savaged by boar - all of these things are on the increase," said Mr Stannard.
"The only option is to reduce the population but the biggest cull we've done is 150 and we haven't got the resources to set a cull target of 400 or more."
With a fourth ranger, due to be recruited mid-autumn, and plans to increase the commission's storage 'larder' from the current 20 carcases - Mr Stannard hopes they will be "running at full power" by Christmas.
But campaigner Mr Slater said the population is sustainable and "will not increase like we're meant to believe".
"The numbers in the forest now will co-exist quite happily without increasing," he said.
"The yearly increase in the number of piglets will naturally dissipate through the forest and be either killed by farmers, road traffic accidents or more natural deaths."