Forest of Dean mural to David and Robert Mushet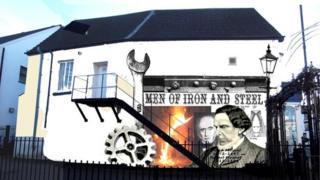 The work of metallurgists Robert and David Mushet is being celebrated in a new mural.
Forest of Dean artist Tom Cousins is painting the 20ft (6m) mural along the Mushet Walk alleyway in Coleford.
The artwork will feature images of the father and son, who contributed to the invention of tungsten steel.
David Mushet came to work at the Whitecliff ironworks in the Forest of Dean in 1810 and his son Robert was born in Coleford a year later.
Mr Cousins said the mural was a matter of "town pride" and described Robert Mushet as "one of Coleford's world famous citizens".
The walkway runs near the site where Robert Mushet once had an iron and steel workshop, according to the artist.
David Mushet and his son later worked together out of the Titanic and Dark Hill ironworks in the Forest of Dean, where they contributed to the invention of tungsten steel.
They are said to have influenced metal-working technology worldwide by perfecting the Bessemer process and developing steel rails for railways.
"At one point [Robert] was at the cutting edge of industrial technology," added Mr Cousins.
David Mushet died in 1874 and Robert in 1891.