House in Gloucester damaged by lightning bolt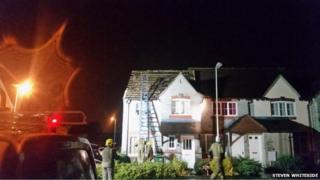 A house in Gloucester was badly damaged after it was struck by lightning.
A television aerial was hit by the bolt which scattered roof tiles and masonry, a Gloucestershire Fire and Rescue Service spokesman said.
The brigade attended more than 20 weather-related incidents overnight but no-one was reported injured.
Much of the United Kingdom was affected by heavy rain and thunderstorms overnight.
Elsewhere in the city the Summer Sound music festival, which had been due to take place in Gloucester Park, will now be held indoors at the Guildhall.
Earlier on Saturday organisers cancelled the event but it was given an 11th hour reprieve by the city council, who stepped in to offer the venue.
"However, the capacity at the Guildhall is only 400 so at 1pm the first 400 people to the venue will be permitted entrance," a council spokesman said.
"Thereafter entry will be on a one in, one out basis."
'Flooded roads'
Gloucestershire Police said a number of roads in Gloucester, Cheltenham and Stroud were affected by flooding.
Supt Phil Haynes said a number of manhole covers had "popped-up" due to the excess water in various places around Gloucestershire and a tree had fallen in Hawbridge.
He said: "We would like to remind people not to drive through flood waters.
"They won't know how deep the waters are and the potential dangers that could be hidden below the surface."