Gloucester and Sharpness Canal ferns tackled with weevils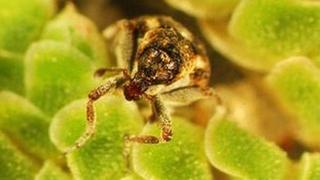 Up to 3,000 weevils have been dropped into a canal in Gloucestershire in a bid to clear it of a "voracious" fern.
The 2mm-long beetles have been released into the Gloucester and Sharpness Canal by the Canal and River Trust, to feed on the invasive plant azolla.
The plant, which can double in size in days, forms thick floating mats which can threaten native wildlife.
Laura Plenty, from the trust, said: "Weevils breed quickly and only eat azolla, so should be effective."
The plant, also known as the fairy fern, is a "voracious grower" which can completely cover waterways in weeks, blocking out light and reducing oxygen levels in the water.
'Take over canal'
"It can be a serious threat to local water wildlife," said Ms Plenty.
"And with the hot weather there's a danger that it can grow really quickly and completely take over sections of the canal."
To combat the weed, thousands of weevils were released by ecologists at intervals along the 16 and a half mile stretch of canal.
"Given time to reproduce and spread, the weevil is capable of clearing entire lakes or canals within a matter of weeks," a trust spokesman said.