River Severn bottle-nosed dolphin dead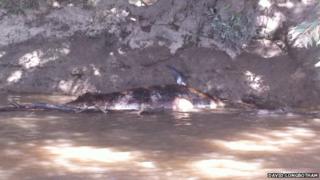 A bottle-nosed dolphin, spotted in the River Severn near Gloucester last month, has been found dead.
The creature was first seen and filmed by local people a fortnight ago between Stonebench and Elmore Lane.
Conservationists said it was "unusual" for the species to be seen in the river and had hoped it would swim out to sea.
But the body of the dolphin was spotted near Elmore at the weekend by a group of water sports enthusiasts.
Stephen Marsh from British Divers Marine Life Rescue said: "We hadn't seen it for over a week so we assumed it had gone back down towards open water.
"It's pretty unusual for a dolphin [that has entered a river from the sea] to die because usually they will get out of their own accord as the tides start getting lower."
Mr Marsh said it was unlikely that the cause of death would be established because investigators from the Cetacean Strandings Investigation Programme (CSIP) were busy investigating other dead dolphins in the South West of England.