River Severn and Avon eels targeted by illegal fishing gangs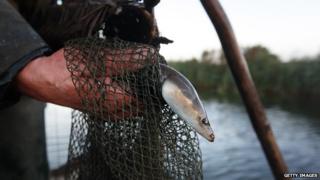 Teams of people are coming to Gloucestershire to illegally fish for eels in the Rivers Severn and Avon, the Environment Agency said.
The agency said night patrols had found groups on the river banks between midnight and 06:00 BST taking fish by rod and line for commercial resale.
Al Watson, who has led night patrols since, June said fish were being taken "in quantities for profit".
The maximum penalty for illegal fishing is £50,000.
Mr Watson said the patrols aimed to protect species like eels which are in decline and to educate fishermen about unlawfully taking fish.