Gloucestershire incinerator decision delay 'frustrating'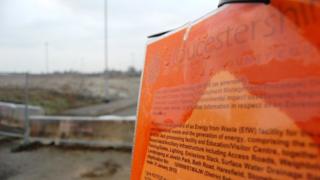 A final decision over whether an incinerator can be built in Gloucestershire has been delayed for a second time by the government.
Communities Secretary Eric Pickles was due to give his ruling in September but this was delayed until late November.
He has now said he is not in a position to reach a decision on the Javelin Park appeal until before or on 22 December.
Gloucestershire County Council rejected the plans last year but this has been challenged by the developer.
Councillor Ray Theodoulou, cabinet member for finance and change at Gloucestershire County Council, said: "We are clearly frustrated by this further three-week delay, however, we appreciate the secretary of state is keen to make the right decision on such an important issue."
The decision has been delayed to allow more time to deal with new planning policy and new planning practice guidance.
Campaigners delayed the decision in September by submitting fresh evidence which Mr Pickles had to consider.
This was about a separate plant treating biological waste being built near Cheltenham which campaigners said undermined the need for an incinerator.
Plans for an incinerator on a 30-acre site at Javelin Park near Gloucester have been debated for the past decade.