Kempley unveils memorial to WW1 and WW2 lost sons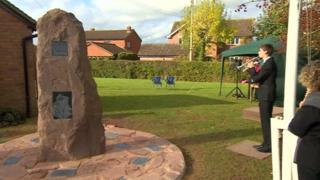 A memorial to nine soldiers from a Gloucestershire village who died during the two World Wars has been unveiled.
Villagers planned and paid for the memorial in Kempley themselves after an appeal was made to all 120 homes.
Twenty-three of the descendants of one of the men, Benjamin Lane, attended the ceremony.
"He didn't want to go. He was gentle and liked nurturing plants," said Angela Owens, Mr Lane's great granddaughter.
"We grew up knowing how great grandmother Rosina had lost her Ben in 1917 and how it took her many months to find out what had happened to him."
Pte Lane was killed by a Turkish sniper's bullet on Valentine's Day 1917.
The central stone of the memorial is surrounded by slates on the ground which face the direction of the home of each soldier.
"The stone faces out of Kempley and this is the road the men would have walked up when they left the village for the last time," said Tony Prisk, who designed the memorial.
The names on the stone are: Cpl Frederick Dyer; Pte William Alfred Hodges; L/Cpl Henry Charles Jones; Pte Samuel Kirby; Pte Benjamin Lane; Pte Alfred Manns; Pte Frank Manns; Pte Hubert Powell; Flt Sgt Colin Robert Morley.