Funding announced for aircraft engineering firm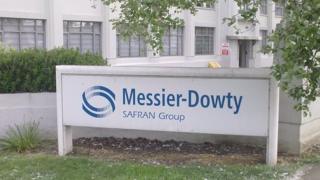 An engineering company near Gloucester has been given £6m for research into how aircraft landing gear can be designed to provide smoother landings.
The funding for Messier-Bugatti-Dowty was announced by Vince Cable, Secretary of State for Business, Innovation and Skills, during a visit to the plant.
The French-owned facility at Staverton makes equipment for various aeroplanes including the Airbus A330 and the Boeing 787.
The site employs 945 people.
Managing director Chris Wilson said part of the money would be used for a system to "better monitor" landing gear, making it possible to predict performance without having to wait for failures and problems.