Gloucester man Anthony Poole killed friend 'after being mocked'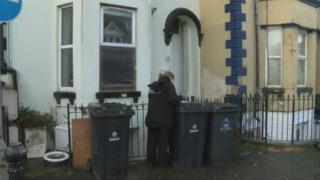 A man on trial for murder stabbed his victim in the eye after being mocked for having no money, a court has heard.
Anthony Poole, 51, was armed with two kitchen knives when he lunged at his friend Martin Stokes, 30, at a flat in Gloucester, Bristol Crown Court heard.
As Mr Stokes took evasive action he fell from a window of the ground-floor flat into the basement stairwell below. He died eight days later.
Mr Poole claims he acted in self-defence and denies murder and wounding.
'If I go down, I go down'
The court heard that after the initial attack Mr Poole stabbed a friend of Mr Stokes, Ben Clark, once in the chest before fleeing the property on Nettleton Road, on 13 January.
Eyewitnesses described seeing Mr Poole running away, shouting: "If I go down for it, I go down for it."
Prosecutor Michael Fitton QC told the jury that Mr Poole and Mr Stokes had been drinking at the flat where their friend Mr Clark lived with his girlfriend.
"There was a conversation that took place in which Mr Clark and Mr Stokes were mocking Mr Poole and the subject of that mocking related in particular, as we understand it, to him wasting money and in turn Mr Poole took offence to what was being said," Mr Fitton told the court.
"The mood appeared to change from relatively friendly to hostile."
The court heard that the day after the stabbings, Mr Poole handed himself into police and told detectives Mr Stokes had had a knife and challenged him to stab him.
Mr Poole, of Melbourne Street East, Gloucester, also claimed he stabbed Mr Clark after he had lunged at him.
The trial continues.