BBC Radio Gloucestershire sets longest cake line record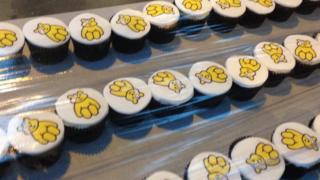 BBC Radio Gloucestershire and its listeners have set a new world record for the longest line of cakes ever, to raise money for Children in Need.
Volunteers around the region baked 14,392 cupcakes which were laid in a line at Gloucestershire Airport.
At about 16:45 GMT, an adjudicator from Guinness confirmed the breaking of the world record which now stands at 885.6 metres of cakes (2,905ft).
The previous record of 606m (1,988ft) was set in Colombia in 2013.
Organiser Andy Jarrett said the atmosphere had been "tremendous", and thanked people for being "very generous and supportive".