Council 'unaware' of child abuser Keith Harding concerns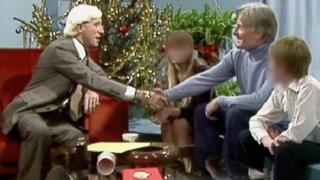 Gloucestershire County Council has said it was "unaware" of child protection concerns relating to a paedophile who worked in a museum in Northleach.
A BBC investigation of antiques expert Keith Harding found he was convicted of child sex offences in the 1950s.
He was also active in the Paedophile Information Exchange (PIE) and appeared on a Christmas show with Jimmy Savile.
The council said the museum was a private venture which it had no role in overseeing or governing.
Harding, who ran the music box museum, died in June this year.
'Information sparse'
Vicki Butler, the deputy director of Safeguarding and Care with the council, said: "We didn't have any information relating to children who were visiting the museums, so I'm not aware of any concerns."
She added: "In 1958 the way that convictions and police crimes were recorded - the information is very different to the way information is held now.
"Therefore the information in 1958 was quite sparse. If we have a conviction now, the information we would receive would much more detailed... and that does have an impact on what action we would take."
If a similar case were to arise, the council said it would be able to work with partner agencies to assess the risk and consider what action to take.