New Bishop of Gloucester expected to unify church on gay marriage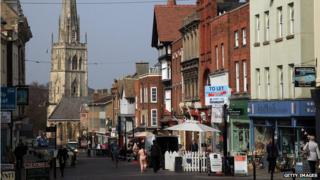 Boosting numbers of young churchgoers and maintaining unity over the issue of gay marriage are among expectations of the new Bishop of Gloucester.
They are included in the Statement of Needs based on the views of the laity and clergy within the diocese.
Archdeacon of Cheltenham, the Venerable Robert Springett said: "We need someone who can hold our diocesan family together."
Gloucester may be the first Church of England diocese to have a woman bishop.
Last Friday, the Right Reverend Michael Perham retired as bishop.
"We expect a bishop who will value all the traditions that are to be found within the diocese," Archdeacon Springett said.
'Enormous excitement'
The Statement of Needs lists other priorities, such as showing strong leadership qualities and an ability to inspire the congregation through his or her theological knowledge.
It is the first diocese to make an appointment since the Church of England voted in the summer to allow women bishops to be appointed. The decision was ratified at its November Synod.
Archdeacon Springett added: "There will be enormous excitement about the appointment of our next bishop and we do look forward to appointing the right person, the right person we discern, whether that's a woman or a man."
The archdeacon has not specified the number or identity of the candidates who are being considered.
Now the Statement of Needs has been drawn up, the CNC and the Vacancy in See Committee will draw up a list of candidates for interview.
Interviews are set for 8 January and the last two days in February.
Once a recommendation is made, this will be escalated to the prime minister and finally the Queen who will ratify the decision.
It's expected the new bishop will announced around next Easter.