Cheltenham's Neptune trident taken twice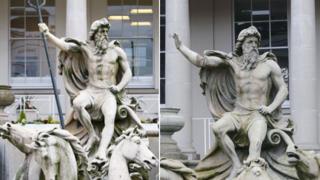 The trident belonging to a statue of Neptune in Cheltenham is missing after being taken twice on the same day.
The council said it disappeared first on Sunday morning but was then returned by a member of the public, only to be taken again later the same day.
Neptune's Fountain, in the Promenade, was designed in 1893 by Joseph Hall, and is described by the council as one of the town's "iconic landmarks".
The police said they were "looking in to what CCTV footage was available".
Garrie Dowling, from Cheltenham Borough Council, said: "Neptune's fountain is one of Cheltenham's most iconic landmarks, and is popular with tourists and photographers, so it's sad that an integral part of the fountain has been taken.
"We're hoping this was just party-goers getting carried away during the Christmas celebrations over the weekend and it will be returned to us safely."
The fountain was carved by local firm RL Boulton and Sons and is thought to have been styled on the Trevi Fountain in Rome.