Quashed conviction man jailed for friend's murder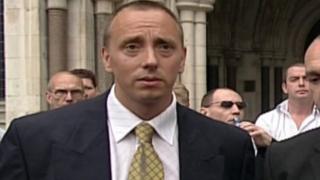 A man who spent 13 years in prison before his murder conviction was quashed has been jailed for 10-and-a-half years for killing a friend.
Martin Stokes, 30, fell from a Gloucester flat window after Tony Poole, 51, stabbed him in the eye.
Poole, who admitted killing Mr Stokes in an argument but denied murder, was found guilty of manslaughter at Bristol Crown Court in November.
He was previously jailed for life for a murder in 1989.
But his conviction, along with that of his friend Gary Mills, was overturned at the Court of Appeal in 2003 when three appeal judges ruled it was unsafe.
At Poole's latest trial, Bristol Crown Court heard a row had erupted on 13 January 2014 when Mr Stokes had teased Poole for wasting his compensation cash awarded after the murder conviction was quashed.
Poole grabbed two knives from the kitchen and stabbed Mr Stokes, who fell from a window of the ground-floor flat into the basement stairwell below, as he took evasive action. He died eight days later.
Poole also stabbed Mr Stokes's friend, Ben Clark, once in the chest. He was found guilty of unlawfully wounding Mr Clark at the same trial.
Poole told the jury he acted in self-defence because he feared he would be stabbed himself.