M5 sound proofing plan unveiled for Hucclecote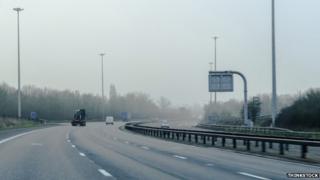 New sound proofing is to be installed next to the M5 in Gloucester after residents in Hucclecote complained about "horrendous" traffic noise.
Mature trees, which acted as a sound barrier, had to be felled because of subsidence two years ago.
At a parish council meeting on Thursday evening, the Highways Agency announced noise level tests would be carried out.
A scheme to resurface the motorway with low noise surface could now be brought forward.
Local resident Keith Smart said since the trees had been chopped down the traffic noise had been "terrible".
"We've lost a lot of money on our house because of the mess and the noise.
"In the summer you can't go outside. If the wind is in one particular direction it's horrendous noise," he said.
Barbara Martin, from Hucclecote Parish Council, said the meeting had been "very productive".
"The Highways Agency said they are going to look at the costs of replacing the noise barrier, to increase the amount of planting, and they're going to look to see if they can bring forward the resurfacing of the carriageway with low noise material."