Gloucester machete murder: More time given to question suspect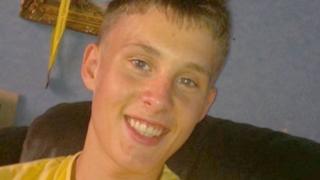 Police have been granted more time to question a suspect over the murder of a 19-year-old in a machete attack in Gloucester.
Zac Evans, 19, died outside The Pike and Musket pub, in Tuffley, at about 00:40 GMT on Saturday.
Gloucestershire Police said detectives had until 19:30 GMT to "charge, bail or release the man".
Family members have described Zac as "brave and kind".
His sister, Annia Evans, said her "gorgeous little brother is now the biggest shining star".
Zac's girlfriend, Beth, said she was "destroyed" by his death and he "always will be the love of my life".
His brothers, Nathan and Stefan Evans, said: "Thinking of you always, love you till the day we die."
'Tragedy'
The principal of Beaufort Co-operative Academy, where Zac was a student, said the family had a long association with the school with him being one of four siblings to attend.
David Bishop said: "All who remember Zac recall a cheerful, positive outgoing young man with a great deal to offer and a great future in front of him.
"Our thoughts at this time are with Zac's family, friends and all those who knew him, many of whom still attend Beaufort and have been deeply affected by this tragedy."
Three men were attacked on Saturday in what police believe stemmed from an altercation in the car park of the pub involving local people.
A 22-year-old local man was taken to Gloucestershire Royal Hospital with serious injuries but has now been discharged, and an 18-year-old man received minor injuries.
Detectives are still looking for the weapon used, which is believed to be a 2ft-long (60cm) machete.