Protesters blamed for Gloucestershire badger cull failure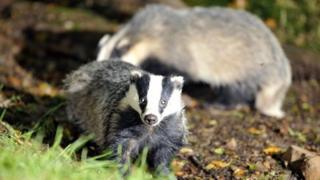 The government has blamed interference from protesters for the failure of a badger cull in Gloucestershire.
Just 274 badgers were culled in the second year of a pilot cull, falling far short of the minimum target of 615.
A similar cull in Somerset, where 316 was the minimum target, saw 341 badgers killed.
Speaking in the House of Commons, Environment Secretary Liz Truss said there were "issues" in Gloucestershire with "criminal activity and sabotage".
'Culling works'
Defra has said the level of interference by anti-cull activists was higher in Gloucestershire than in Somerset.
Liberal Democrat MP, Andrew George, questioned if it was right to say both pilot culls had failed to meet their targets of 70% reduction in badgers.
Ms Truss said the chief veterinary officer "was very clear that the cull in Somerset shows culling does work in helping reduce disease".
The government sanctioned culls in a bid to stop the spread of bovine TB.
The pilots are aimed at testing how effective, humane and safe a cull can be.