Newent man Richard Osborne tried to strangle wife after kidnap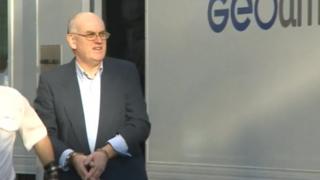 A man who lured his wife to a lock-up garage and tried to strangle her has been jailed for six years.
Richard Osborne, 60, of Foley Road in Newent, pleaded guilty to attempted grievous bodily harm with intent and attempted false imprisonment.
Gloucester Crown Court heard how the couple had been due to separate after disagreeing over their finances.
His wife Jane, considers herself lucky to be alive, the court was told.
Osborne had originally faced a trial for attempted murder, but pleaded guilty to the lesser charge.
He spent two weeks plotting to kidnap his wife and then hang himself in front of her, the court heard.
And Last August, he took her to a garage at a remote location near Newent and hit her over the head with a sock filled with lead pellets.
Stephen Dent, prosecuting, said: "He grabbed her from behind and strangled her hard, crushing her windpipe and stopping her breathing."
As he passed sentence, Judge Jamie Tabor said Osborne's intention was very clear.
"I have no doubt at all that you intended to cause your wife, at the least, very serious harm indeed," he said.
"You subjected her to seven minutes of a violent and deeply unpleasant assault and she thought she was going to die."
Det Con Sharon Ahearn, from Gloucestershire Police, said: "Mrs Osborne thought, when she was being strangled, that she had taken one of her last breaths. She thought she was about to die.
"She is thankful that she is allowed to get on with her life now and she wishes to do that in the best way she can."