Toad crossing volunteers sought in Gloucestershire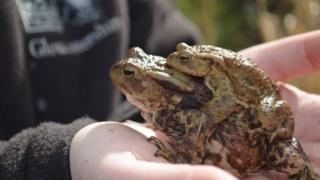 Animal lovers across Gloucestershire are being asked to volunteer to help toads to cross the roads.
The county's wildlife trust needs help with migrating toads returning each year to the ponds where they were born.
Searching for a mate, many toads have their 12-year lifespan cut short by traffic on roads built across the routes to their breeding ponds.
Last year, some 70 volunteers saved 2,700 "amorous toads" between February and April.
Ellen Winter, Gloucestershire Wildlife Trust's community officer said: "Your local area probably has at least one toad crossing.
"We need more information on where you see flat toads, and more patrollers to help for a few hours on your local crossing."
Toad crossings can be up to two miles (3.2km) long.
Volunteers can carry the toads across the road in buckets, before releasing them safely on the other side, their numbers recorded.
Patroller Gemma Waters said: "It felt really great to be helping the toads as they are not as common as they used to be and they make such a cute 'chirp' in the bucket."