Cheltenham Banksy artwork 'will stay in town'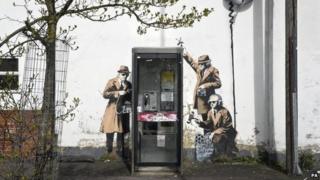 A man who wants to save a threatened Banksy mural on the wall of a house in Cheltenham has promised it will stay.
The "Spy Booth" artwork, showing three figures "snooping" on a telephone box, appeared in Hewlett Road last April.
Local businessman Hekmat Kaveh applied for the work, satellite dish and phone booth to be included in the property's Grade II* listed status last year.
But London art dealer Robin Barton, who hopes to buy the piece, said it needed to be removed or protected.
Over the weekend, Mr Barton, from the Bankrobber Gallery, instructed a scaffolding company to remove covers from the site, saying he was "no longer prepared to pay" for its protection.
"We are throwing down the gauntlet in the vain hope that an individual or community cartel will finally wake up to the simple fact that if nothing is done to protect this mural from deteriorating weather conditions, come the spring there will be no mural," he said.
"This work must either be professionally protected or removed if it is not to be lost forever."
Mr Barton said he was negotiating with the building's freeholder to buy the piece so it could be included in a major Banksy show being planned for Los Angeles in the summer.
A campaign group, supported financially by Mr Kaveh, has been fighting to keep the artwork in place on the corner of Fairview Road and Hewlett Road - three miles away from the government listening post GCHQ - since it first appeared.
Mr Caveh said: "I've heard all the stories that it might go to Los Angeles and I want to assure everyone that that's not going to happen."
He added he was still waiting for a listed building consent application, submitted last September, to be approved by the Cheltenham Borough Council.
A spokeswoman said the application to include the Banksy and satellite dish in the building's listed status was still being considered.
She said there had been delays because the original submission lacked "fundamental detail".