Cheltenham trial road scheme to end early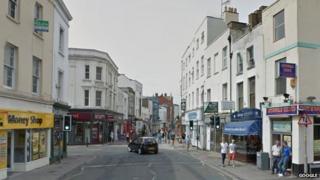 A trial road safety scheme in Cheltenham, which has caused traffic congestion, will end early it has been announced.
A borough council spokesperson said the temporary lane restrictions in Bath Road would end on Wednesday morning.
The road has been reduced from two lanes to one since 19 January as part of a trial.
Motorists and local businesses have complained about the scheme, saying it has caused traffic jams.
A council spokesperson said: "We have decided to end the Bath Road trial two days early, and we will be removing the temporary traffic management and restoring the existing traffic signals on Wednesday morning."
'Not working as intended'
On Monday council leader, Mark Hawthorne, said he had asked for the trial to end because he was "not happy" with it.
"It doesn't appear to me to have been working at all as intended, so I've asked officers to cancel it as soon as possible.
"We'll look very closely at the data gathered so far before reaching any longer term conclusions," he said.
The trial began on 19 January, and was introduced in order for the council to see what happened when two lanes were reduced to a single lane.
Before the trial started a spokesman said Cheltenham Transport Plan proposals included similar changes at the location, and traffic modelling had been carried out to predict what would happen.
Decision postponed
They added the council wanted "to see what happens when the safety scheme is in place on its own".
Meanwhile, fresh concerns over the transport plan, which is a major scheme to reduce traffic in the town, have led to the final decision being postponed.
The proposals to change traffic-flow and one-way systems in the town centre, and pedestrianise "Boots Corner", was expected to be signed-off on Wednesday.
However Gloucestershire County Council wants more time to assess the costs and timescales involved in the plan.
The decision is now expected to be put to the council's cabinet in April.