Cheltenham council to review The Wilson overspend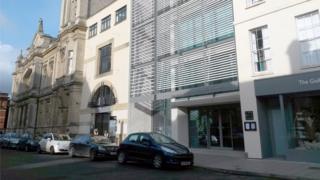 A "considerable" overspend on a revamp of Cheltenham's art gallery is to be reviewed by the council responsible.
The Wilson was reopened in 2013 after a £6.8m refurbishment - £1.2m more than expected, according to the town's Conservative group.
Andrew North, Cheltenham Borough Council chief, said the project "did regrettably go beyond the estimated costs by a considerable margin".
An internal audit review has been launched to investigate why.
The Tories have heavily criticised the Liberal Democrat-led council for a "complete lack of control" .
A spokesman for the group said "the Liberal Democrat cabinet were clueless about delays and mounting costs."
'Huge disappointment'
As well as escalating costs, the work took 12 months longer than originally planned due to unforeseen and unavoidable work.
Problems included a structural engineering contractor going into liquidation and mistakes with concrete pouring which required removal and replacement.
Mr North said: "We do need to be concerned that the arrangements for control and reporting of the budget and project timescales proved inadequate and it's very important that these issues are being addressed and lessons are being learned."
''This overspend is a huge disappointment but despite this the project should nevertheless be seen as a success; The Wilson has achieved a number of high profile successes including several design awards since its opening, with popular exhibitions and a record number of visitors.''
Once the audit review has been completed, it will be put before the authority's audit committee.