River Severn elver fishing fears due to EU policy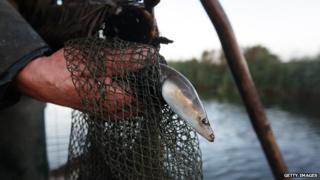 Fishermen on the River Severn who catch and sell baby eels for export have claimed European Union policy is killing off their trade.
Since 2007, new EU rules came into force stopping the export of eels from the UK to countries outside Europe.
Managing director of UK Glass Eels, Peter Wood, said: "It doesn't just affect us, it affects our customers who grow these eels."
The BBC has not yet received a response from the European Commission.
The legislation was brought in to protect elver stocks which had fallen to 10% of pre-1980s levels.
'Eel recovery'
Between 300 and 350 licensed fishermen in the River Severn area sell their catch to Mr Wood's company - although the number of licensed fishermen who catch stocks varies from year to year.
Mr Wood said that pre-2007 the average selling price of one kilogram of elvers would reach about £200, but last winter this fell to £20 per kilogram.
The baby eels, known as elvers, are sold to Eastern Europe to restock local rivers.
"All the cross border co-operation we've done for the recovery of eels like those countries on the eastern side of Europe, like Russians who can fund some of the environmental programme, we just can't help them anymore," said Mr Wood.
He added that since the regulations came into force in 2007, his sector had shrunk by about 30 to 40 percent.
A meeting is due to be held for local fishermen in Longford on Friday evening to debate the issue.