Tewkesbury £7.5m leisure centre build under way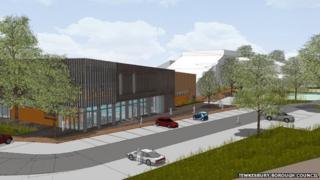 Ground preparation work will begin later for a new £7.5m leisure centre in Tewkesbury to replace the 40-year-old Cascades facility.
The new centre will have fountains and water jets, an 82ft (25m) pool and a 65ft (20m) learner pool as well as sauna, steam rooms, a gym and studios.
Cascades will remain open until the new facility is complete in early 2016.
The Cascades site will then be redeveloped as part of a wider plan for Bishop's Walk and Spring Garden.