Staff at fire-hit propeller firm Dowty redeployed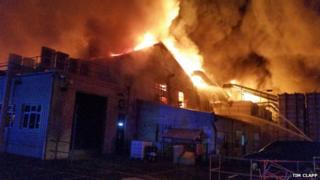 About half the workforce of a fire-hit propeller manufacturer, in Gloucestershire, has been redeployed.
One hundred members of staff at Dowty Propellers are to be re-housed at parent company GE Aviation's Bishops Cleeve site, near Cheltenham.
A spokeswoman said 40 had already been moved and at least 60 others would be transferred by Thursday.
The Dowty Propellers factory at Staverton was mostly destroyed by a fire last Thursday.
GE Aviation's Jennifer Villarreal said portable trailers had been brought in to the site to house some of the workforce.
She added demolition of the damaged factory was "a few weeks away" and it was too early to discuss the rebuilding of the factory.
"We are focused on getting employees back to work and getting operations up and running," she said.
"We are exploring all possible options to meet the needs of the business and employees, including options in Gloucestershire."
She added structural engineers were still assessing the building.