Forest Green Rovers reviews steward use after Grimsby Town fan ejected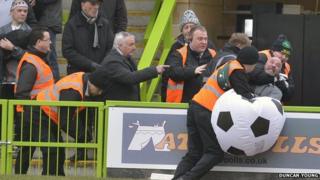 A football club has said it is reviewing how it uses stewards in games after a fan from a rival club was ejected in an apparent headlock.
Stewards at Forest Green Rovers ejected Grimsby Town fan Bryan Winship from The New Lawn before Saturday's Conference league game.
Mr Winship, 41, had been playing with an inflatable football before kick-off.
The Gloucestershire club said their investigation was "inconclusive" but the incident was "regrettable".
Mr Winship, from Ulceby, had told the Grimsby Telegraph he took the inflatable ball to the match to inject a "bit of fun" into the game, and that he "couldn't breathe" as he was ejected.
A statement from Forest Green Rovers said: "The stewards' report states they asked the fan to deflate or handover the football because an inflatable could interfere with play if it got on to the pitch during the game and the fan refused.
"The stewards... made the decision to remove the fan from the ground.
"The fan admits he refused to hand over the football but denies he became abusive.
"There was no third-party evidence corroborating either side regarding this provocation."
The club said the photographs "clearly show a head-lock".
'Shook hands'
"We cannot conclude that there was intentional serious wrongdoing from either the stewards or the fan," the club said.
"Despite the incident, before leaving the stadium the fan and the stewards shook hands."
The club said it was reviewing the incident to make sure its "stewarding is the best it can be".
A Grimsby Town spokesman said: "Incidents at football grounds of this nature, whilst not common could happen anywhere despite the level of the training that stewards receive.
"From talking to our supporters, one thing is very clear and that is that GTFC supporters have always found Forest Green to be a warm and friendly stadium to visit."