Man arrested after Forest of Dean house explosion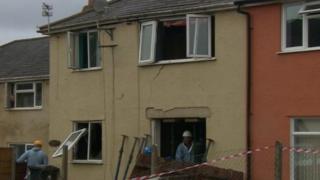 A man has been arrested on suspicion of burglary after being injured in a blast at a house in the Forest of Dean.
The explosion happened in Coleford just after 07:30 GMT on Saturday.
The man, 43, from Gloucestershire, was freed from the property and taken to hospital, but was discharged when his injuries did not prove to be serious.
He is also being held on suspicion of arson with the intent to endanger life. The owners of the house were not in at the time of the explosion, police said.
Police and fire investigators will return to the semi-detached house in High Nash to continue their investigations into what happened.