Gloucester City Council: Arts and waste cuts made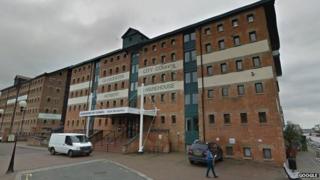 The frequency of waste collections is set to fall and funding to Gloucester's Guildhall and city museums will be cut after a vote held by city councillors.
A total of £1.3m of cuts for 2015-16 was approved by Gloucester City Council during its cabinet meeting on Wednesday evening.
Cuts of £300,000 are set to be made to its contractor, Amey to reduce the frequency of its waste collections.
The Guildhall and museums will see cuts totalling £200,000 for the coming year.
'Above the odds'
Amey, which provides waste services, will see changes to its kerbside recycling collections where recyclables will be sorted after collection rather than being sorted at the kerbside by staff.
The frequency of collections will also be reviewed to save costs.
During the meeting on Wednesday evening, councillors also rejected plans to build a new box office and cafe bar at the Guildhall.
Council leader Paul James said: "It involved buying the building next door and that's not for sale and if we were to buy it we would have to pay above the odds and at a level that wouldn't be signed off by our property advisers.
"It would be about £4m which is not possible in this point in time."
The council also agreed to expand the meeting and venue facilities, refurbish the cinema and widen its events programme at the Guildhall.
Gloucester's two museums, the City Museum and Folk Museum, will also be promoted more in a bid to improve ticket sales.
The council's subsidised the Guildhall and two museums with £800,000 in 2013 but this has fallen to about £500,000.
Last year the Guildhall made a loss of £400,000, and the two museums a combined loss of £280,000.
A full council meeting will be held later where the budget decision are set to be ratified.