Care home rapist Colin Stokes 'may have had more victims'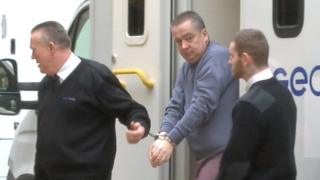 A care worker who raped three disabled women at the home where he worked may have had more victims, a report found.
Colin Stokes, 49, from Gloucestershire, was jailed for 14 years for the attacks, which have been investigated as part of a serious case review.
An 81-page report found the incidents were both predictable and preventable and criticised the police and care home provider, among others.
Safeguarding teams have been made aware of the possibility of further victims.
When the attacks took place in 2012/13, Stokes' victims - aged 32, 50 and 54 - were in supported living accommodation which has since closed.
One victim has a mental age of a child, another is registered blind and the third needs help to communicate. They cannot be named for legal reasons.
Two historical sexual assault allegations have also been highlighted in the report, from 1997 and 2007, with Gloucestershire Police rapped for losing information about the first while upgrading its crime recording computer database.
It has since emerged this is one of 7,326 crimes affected by lost information, according to Gloucestershire Safeguarding Adults Board (GSAB).
Assistant Chief Constable, Sally Crook, said it was "completely unacceptable" and offered an apology to the victims and their families.
'Deep regret'
The information came to light during a probe of the 2007 allegation - which was dropped due to insufficient evidence - by David Mellor, author of the GSAB report.
He wrote it would have been "reasonable to assume that [Stokes] would continue to pose a threat to any vulnerable female service users in his care or to whom he had access".
He also indicated the rapes could have been prevented but due to there being "so many weaknesses in the system", it was likely it would have taken a successful prosecution of Stokes and his consequent dismissal in 2007.
Paul Yeatman, chair of GSAB, said the board "deeply regrets" what happened to the victims.
"The review has shown the crimes committed could have been prevented if previous allegations had been further investigated and information shared between partners.
"What's also clear is that when the latest allegations were made in 2013, a thorough and extensive investigation took place by both the police and the county council.
"Whilst nothing can put right the wrong suffered by these vulnerable adults, I am thankful they are doing well, living together as part of their local community."