Cheltenham taxi marshals get CCTV to record abuse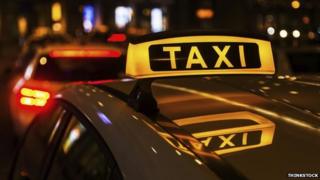 Taxi marshals have been given wearable CCTV cameras to record any assaults they or drivers are subjected to.
The cameras, which record high resolution video and audio, are an addition to a radio link the Cheltenham marshals already have with police.
Taxi ranks "have historically been hot spots for disorder" and hopes the cameras will offer greater protection, Cheltenham Borough Council said.
Some 1,500 people on average use the Promenade taxi rank each weekend.
The marshals will warn people who cause trouble at the ranks that their behaviour is being recorded.
''Areas such as busy taxi ranks can be hot spots for disorder because of the high numbers of people gathering in one place at the end of a night out," said Colin Pilsworth, the authority's community protection officer.
"The marshals have a tough job and can be exposed to unacceptable behaviour. The cameras will offer increased protection and hopefully drive down instances of anti-social behaviour.''